It is time to give users more control over Search.
At VRM2008 in Munich and at IIW in Mountain View, I started a conversation about User-Driven Search, the premise: what would it mean for users to truly drive their searches?
User-driven is a new term that came out of the VRM community riffing on the meaning of user-centric development and user-centric identity. User-centric is a nice term, but it could be construed as limiting. For example, user –centric definitely implies that that the user is at the center of attention and the focus of the architecture, but it doesn't necessarily mean the user is in charge of the experience. That's a key distinction.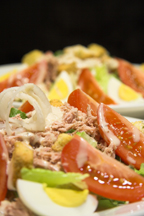 Not just tuna salad
Adriana explains this difference between user-centric and user-driven as metaphorically the difference between buying ready-made tuna salad or picking and choosing your own ingredients and making the tuna salad yourself. When I first talked with Doc about user-driven instead of user-centric, Jim Carrey's The Truman Show immediately sprang to mind: from birth, Truman is the protagonist in a huge reality show revolving around him… only he doesn't know it. The climax of the show is Truman discovering the rest of the world and confronting his father/producer. Clearly the Truman Show is Truman-centric… but it is most definitely not Truman-driven.
It's about impetus and authority
For me, user-driven means that the user provides the impetus and is the controlling authority throughout the transaction. Sure, sometimes there is negotiation or collaboration with others… the user isn't omnipotent, after all. However, the user is in charge of creating his or her own experience. This fits with user-constructed or customized solutions, like the tuna salad recipe. However, it has implications far beyond the limits user-created or user-customizable architectures.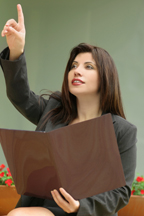 Is the user initiating the experience? Is the user's moral authority the primary control throughout the system? Is the system transparent to users, enabling them to make their own informed decisions about what will be presented to them and how it is presented? Is it the user who is shaping the input, intermediary results, and final outcome? If so, then it is user-driven. If not, it isn't.
When it comes to the tuna salad metaphor, this is the equivalent of the tuna salad being made when I ask for it and on my terms. Not before. And although I could choose to make the salad myself–that is definitely user-driven–it could also be made by someone else to my specifications… extra mayo and black pepper, no onions, thank you.
Search as user-driven
Google's keyword query-response approach to Search is, of course, user-driven to some extent. Nothing happens until the user enters a query, users are free to enter any query, and the system responds with results tailored for exactly what the user queried. The user does shape the experience to a limited degree. And yet, it still provides only a slim façade of user control. There is no way to modulate the algorithm, no way to let Google know which results are good or bad, and no way to refine the search other than keyword guessing games. And, perhaps most importantly, there is no way to manage the search beyond the immediate query. For that, the user is dependent on other techniques: bookmarking, cut & paste, opening multiple windows or tabs, even printing to paper or PDF to keep track of good finds. Evolution in Search History management is starting in the right direction, but the ideas here have been rather uninspiring so far.
User-driven systems create value inherently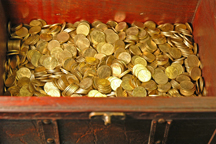 The limits on the user-driven aspects of Google are particularly ironic given that it is precisely the element of user control that creates Google's greatest asset: focused attention. Google's money making asset is the collection of user-specified queries, queries that explicitly state words related to the user's interest and implicitly denote user intent. It is precisely because the individual enters a specific keyword that Google is able to sell targeted ads… at great profit and benefit to advertisers and searchers alike.
The query entered in the Search box gives Google a implicit statement of intent. That intention is the gold Google resells to advertisers. If Google didn't let users drive that intention, if they looked more like a content site or "Internet portal", they'd have a lot less intention to monetize.
If we can extend that control, if we can make search even more user-driven, if we can enable richer, more explicit, more user-driven expressions of Search intent, I believe we can create even more value for everyone involved: search companies, advertisers, searchers, even non-paying websites showing up in "organic" results.
What does it mean to have User Driven Search?
At SwitchBook, we've been doing a lot of thinking about what User Driven Search might mean. I like starting the conversation with a simple example: what would it mean if I could take my search history from one search provider to another? This "dataportability" example is just an initial notion of how Search might become more user driven.
So, what do you think of when you hear (or read) "User Driven Search"?
I'll be leading a session on this topic at the VRM Workshop next week. I hope you can join us.
This material is based, in part, upon work supported by the National Science Foundation under Grant No. 0740861. Any opinions, findings and conclusions or recomendations expressed in this material are those of the author(s) and do not necessarily reflect the views of the National Science Foundation (NSF).
[Update 5/3/2009: "user-driven Search" to "User Driven Search"